11,000 trees planted by 11,000 people from all over the world in Finland, as part of a massive earthwork and land reclamation project by environmental artist Agnes Denes, one of the pioneers of Environmental Art. Read more about Agnes, here, best known for her Wheatfield project in Manhattan.
Source: Agnes Denes Studio
Will we be wearing these hazmat suits and masks in the future? Hope not.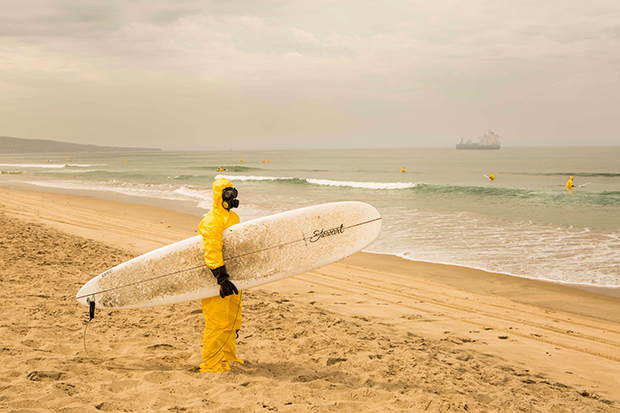 Source: Featureshoot.com
Indoor air quality can be and is enhanced through indoor plants. How about when you are out there? When the air pollution gets worse, will you take the plants with you?
Source: Dr. Love
Not so subtle project that spreads awareness on paper consumption and recycling.
Source: Steve Messam
No blind spot for this trash bag. Makes me want to sing 'But then I just smile, I go ahead and smile…..' (flip-flops) 
Source: Trash Project
Reminiscence of our ways of material consumption. Where are our patterns of consumption taking us?
Source: Tomas Saraceno
Before and After. Daesung Lee has found a way to show what it will be like if we don't act now.
Source: Daesung Lee
Permanently etched on my mind. I so want to see this all over.
Source: May 19, 2014, New Yorker Magazine Cover
One of the winning entries of DEP's Water Resources Art and Poetry program, out of 1,350 2-12 grade students from New York city. A total of 1,400 pieces of Artwork and Poetry were created by these young artists for the 29th Annual Water Resources Art and Poetry Contest.
Source: Department of Environmental Protection, NY
Edits:
Goan Art taken from The Caravan, 16.07.2015