For the entire month of April, Safecity is making a case for safety, especially women's safety in our cities and communities – one of the targets of UN's Sustainable Development Goals. As a part of this worldwide effort, we are focusing on Goal 11 – 'Make cities inclusive, safe, resilient and sustainable'.
Safecity (registered under Red Dot Foundation) is a platform, founded in 2012, that crowdsources personal stories of sexual harassment and abuse in public spaces. This data which maybe anonymous, gets aggregated as hot spots on a map indicating trends at a local level. The idea is to make this data useful for individuals, local communities and local administration to identify factors that causes behavior that leads to violence and work on strategies for solutions.
Come join me with Safecity for a discussion on safe and sustainable cities!
I curate Safecity's Twitter account this week again for the third time, for an exchange of thoughts, a debate, new perspectives, and most importantly to know more about what it takes to make our cities safer for all. I discuss this with a focus on 'Omission of women in urban planning'. I'll also be conducting a Twitter chat concerning safety in India's 100 smart cities on 8th April 2016 9 PM IST/11:30 PM EST. Save the date!
I've never discussed this on my blog before, therefore a background is called for. Somewhere in August 2014 and also in October 2015 I've had a chance to be a #SafecityCurator, where I was able to engage the audience in different perspectives on how different things connected to women's safety. There was a theme for every week – ranging from – how involvement of women in the environmental movement will help us find and implement solutions to our environmental crisis, women in STEM, awareness through art, role of government and laws for women's safety, how the changing environmental conditions affect women in particular, with respect to energy, water and climate change, gender gap and sustainability, the role of media and advertising in women empowerment or the lack of it, role of comedy and feminism in women's safety, an unbiased look at violence against both men and women, women in waste management and the safety issues related to it, how technology, science and education can help bridge the gender gap and how it is possible, and gender issues in sustainable development and how the world is resolving them. I even conducted a Twitter chat on #SaferCities for female tourists/commuters.
Following are the themes discussed with Safecity's followers in detail:
Greener world with women
Science & Technology
Art and women
Ideas for womens' safety (IDEO)
Food for thought
Stories
Government and laws
Gender gap and sustainability
Role of media in women empowerment
Comedy, feminism, women's safety – Tuesday
Violence against men and women
Women in waste management
Twitter chat on #SaferCities for female tourists/commuters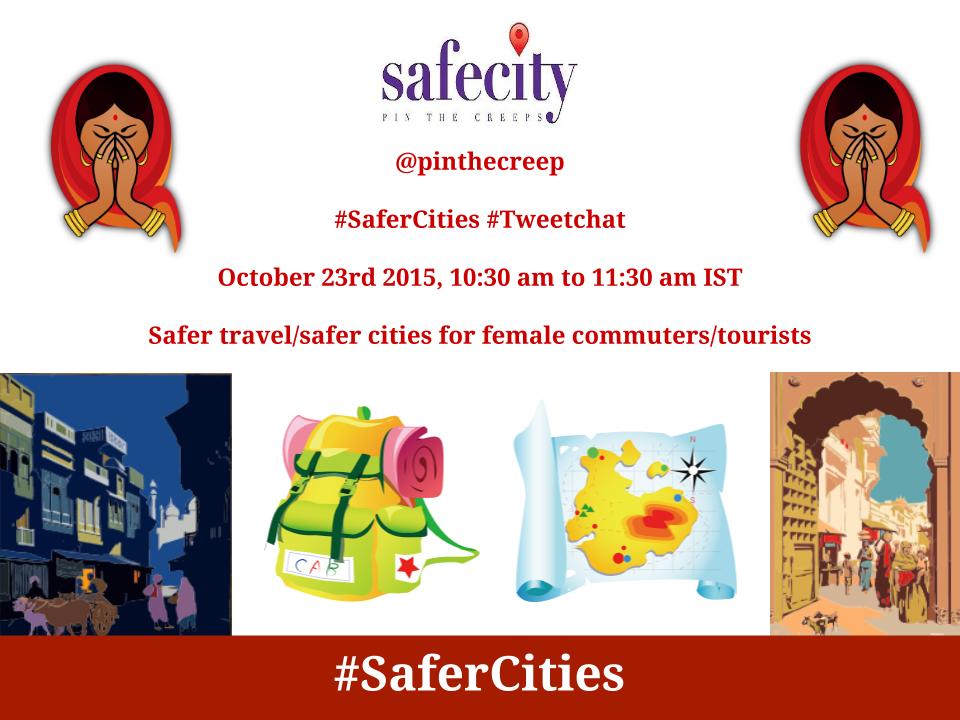 QA: To start the #Tweetchat, what's ur self defense tool against physical abuse while travelling? chilli powder, nail filers? Has it worked? #SaferCities #VAW #PublicSafety
QB: As opposed to defense, what preventive measures have you taken to keep yourself safe? #SaferCities
QC: Do you use any app to keep yourself safe? Which one is it? #SaferCities
QD: What would be your suggestion to the Indian govt to make the India's 100 Smart Cities safe? #SaferCities
QE: What are your 'do's and don'ts' for foreign women travelling to India? #SaferCities
QF: If any foreign women tourist is reading us, please tell us why would you hesitate to travel to India. #SaferCities
QG: To wrap up, what's your one tip/head's up that you'd give to someone who wants to learn to keep herself safe? #SaferCities
To see the entire Tweet chat click here.
Technology, science and education